Technical characteristics:
Jet tandem helmet from Mârkö helps
? Mârkö develops and wishes to offer its know-how to cyclists with the manufacture of bicycle helmets adopting a vintage and urban design .?
The tandem bicycle helmet of Marko Helmets consists of a robust shell enveloping in this EN1078 approved polycarbonate and an inner foam in breathable, removable and washable fabric. The tandem is made up of triple ventilation to facilitate the ventilation of the helmet during hot weather to avoid perspiration and it has a removable visor.
The tandem helmet guarantees effective protection of the head and especially the cranial box during a fall since it allows the shock to be gently amortized, because as you may know the wearing of the helmet is mandatory in two wheels. Easy to use, you will have to adjust the helmet well to your head turn using its adjustable closure located on the jugular strap and choose the size of the suitable helmet .?
The tandem helmet has an urban design in five pretty colors, both sober and elegant to drive in town, on a cycle path with your city, road bike or even your electric bike to go to meetings Or simply on the route of work. It should not be forgotten that a sporting activity is also important, making a bike is excellent! But beware of motorists and think of the codes of the road also valid for the practice of cycling!?
Technical characteristics:
Sizes: XS to XL.
Weight: 700g (+/- 50g)
Approval: this EN1078.
- Delivered with a transport cover
- Polycarbonate shell
- Interior in Alcantara.
- Inland foam in breathable, removable and washable fabric.
- Micrometric closure.
- wide field of vision.
- CE approved visor in 166 - in 14458
- Aluminum visor mechanism.
- Colorless anti-scratch screen supplied with the helmet.
- Removable visor
- Triple ventilation
Type d'équipement

casque vélo

Marque

MÂRKÖ

Livré avec housse

Oui

Type de coque

Polycarbonate

Modèle

Tandem

Produit homologué selon les normes CE

Oui

Attache jugulaire

Micrométrique (attache rapide)

Ecran solaire

Non

Intérieur démontable et lavable

Oui

Porteur de lunettes

Oui

Tailles

XS au XL

Poids

900 gr à 1050 gr

Sexe

Femme
Homme
Know your helmet size
Marko Helmets Here are some tips that will allow you to properly appreciate the morphology of your head, in order to correctly choose your Marko helmet. Whatever safety gear you buy to ride a two-wheeler should be taken seriously and deserves professional advice. This is why we are at your disposal by phone or online chat to advise you and offer you the Marko Helmets helmet that best suits your body type.
My Marko Helmets helmet size?
To find your helmet size, you must have a tape measure. If you don't have one, take a piece of string and a ruler to report the length you find. Place the tape measure or string about 2.5 cm above your eyebrows, where your skull is widest.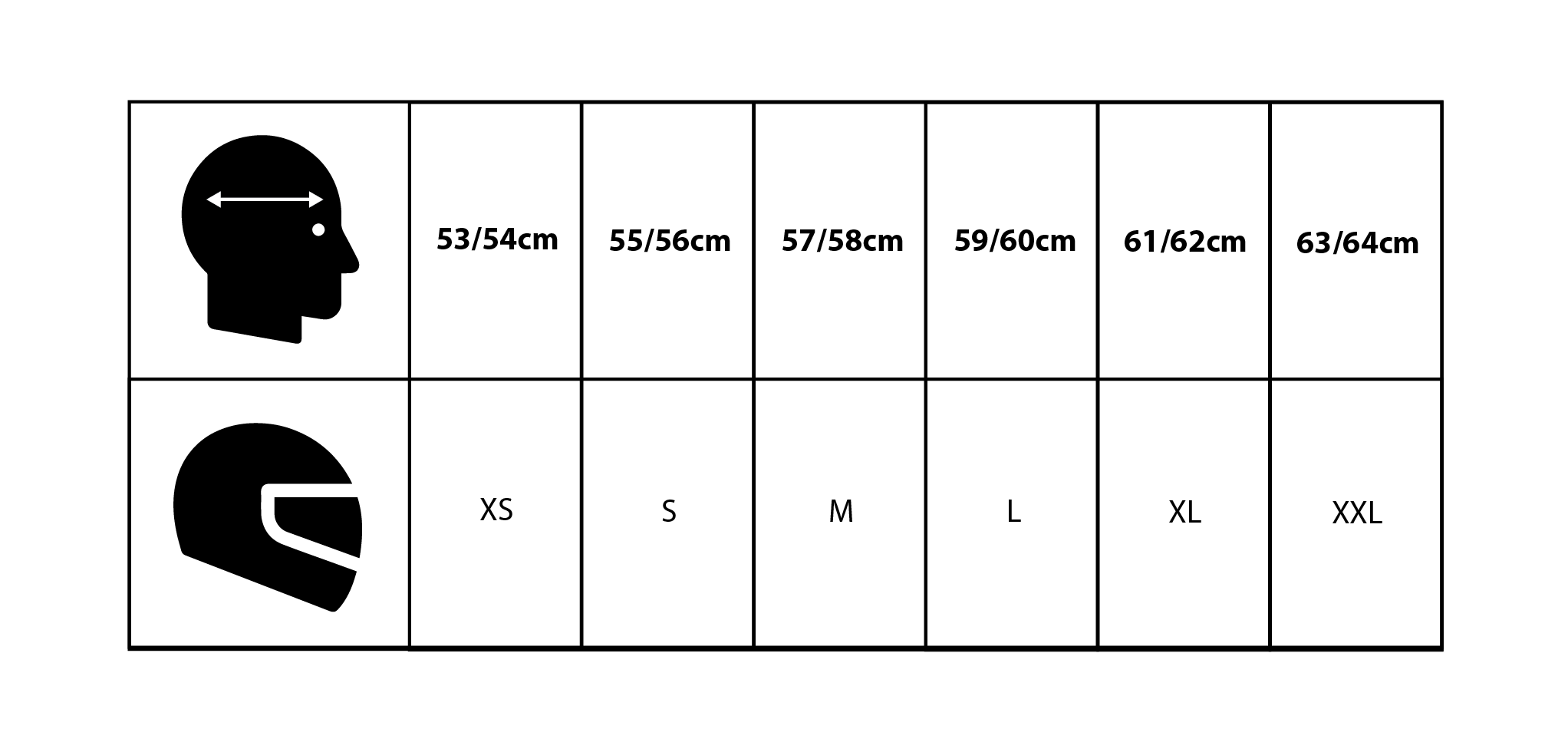 Once you have found your height in centimeters, please refer to the table above. It sometimes happens that we are between two sizes, in this case we advise you to choose the smaller size. It is better to have a slightly too small helmet with a little discomfort (time for the foam to settle), than to have a large and therefore dangerous helmet.
Customers who bought this product also bought:
Customers who bought this product also bought: