Technical characteristics:
The M-Fiber 2 helmet from Marko Helmets
The advantage of the M-Fiber sport-tourism helmet is its versatility. Both perfect to buy your bread wand, only to travel hundreds of kilometers on the highway, and this does not matter the type of driving. Whether you drive in custom, maxi-scooter or sporting it will offer you the properties of a sports helmet and the expected comfort on long journeys.
If each biker and scooterist has special helmet requirements The Touring practice will ask you for a comfortable, ventilated and aerodynamic helmet. The M-Fiber is provided with an integrated solar visor and folding very easily with one finger. Supplied with a Pinlock, it is also predisposed to accommodate an intercom system. The whole of his cap can be removed very easily in order to be washed after a long journey on a motorcycle.
With a powerful ventilation system it will offer you the essential comfort if you adorn in hot climate.
Technical characteristics:
Sizes: XS to XL.
Weight: 1350g (+/- 50g)
Approval: Ecer22-05
Safety:
In tri-composite fiber helping to improve the solidity and lightness of the helmet for a weight of 1350g +/- 50 in size S
Quick disassembly system of cheeks in the event of an emergency
Jugular closure by rapid and efficient stainless stainless steel loop
Visibility:
Colorless anti-UV treated screen and predisposed Pinlock
Integrated internal smoked sun screen, anti-fog and anti-scratch treated
Field of vision enlarged offers optimal visibility
Supplied with a large format Pinlock 70 lens to make the most of your field of vision from the appearance of fog
Easy Lock screen replacement system: Quick disassembly and without tools
Ventilation:
Ventilation greater than double function: for a maximum air flow the suction and the evacuation of air operate simultaneously
Adjustable rear ventilation
New chin ventilation for maximum air intake
"+":
Structure of the aerodynamic caps aimed at extreme high -speed performance
New interior in antibacterial, anti -sweating and drying faster
Removable and washable interior
Passage of glasses facilitated thanks to planned grooves
Spoiler developed and tested in the wind tunnel
Predisposed to integrate the communication system
Supplied with a transport cover and reflective stickers,

Type d'équipement

Casque moto intégral

Marque

MÂRKÖ

Livré avec housse

Oui

Type de coque

Fibre composite

Modèle

M-Fiber 2

Produit homologué selon les normes CE

Oui

Attache jugulaire

Micrométrique (attache rapide)

Ecran solaire

Oui

Intérieur démontable et lavable

Oui

Porteur de lunettes

Oui

Tailles

XS au XL

Poids

1300 gr (+/- 50gr)

Sexe

Femme
Homme
Know your helmet size
Marko Helmets Here are some tips that will allow you to properly appreciate the morphology of your head, in order to correctly choose your Marko helmet. Whatever safety gear you buy to ride a two-wheeler should be taken seriously and deserves professional advice. This is why we are at your disposal by phone or online chat to advise you and offer you the Marko Helmets helmet that best suits your body type.
My Marko Helmets helmet size?
To find your helmet size, you must have a tape measure. If you don't have one, take a piece of string and a ruler to report the length you find. Place the tape measure or string about 2.5 cm above your eyebrows, where your skull is widest.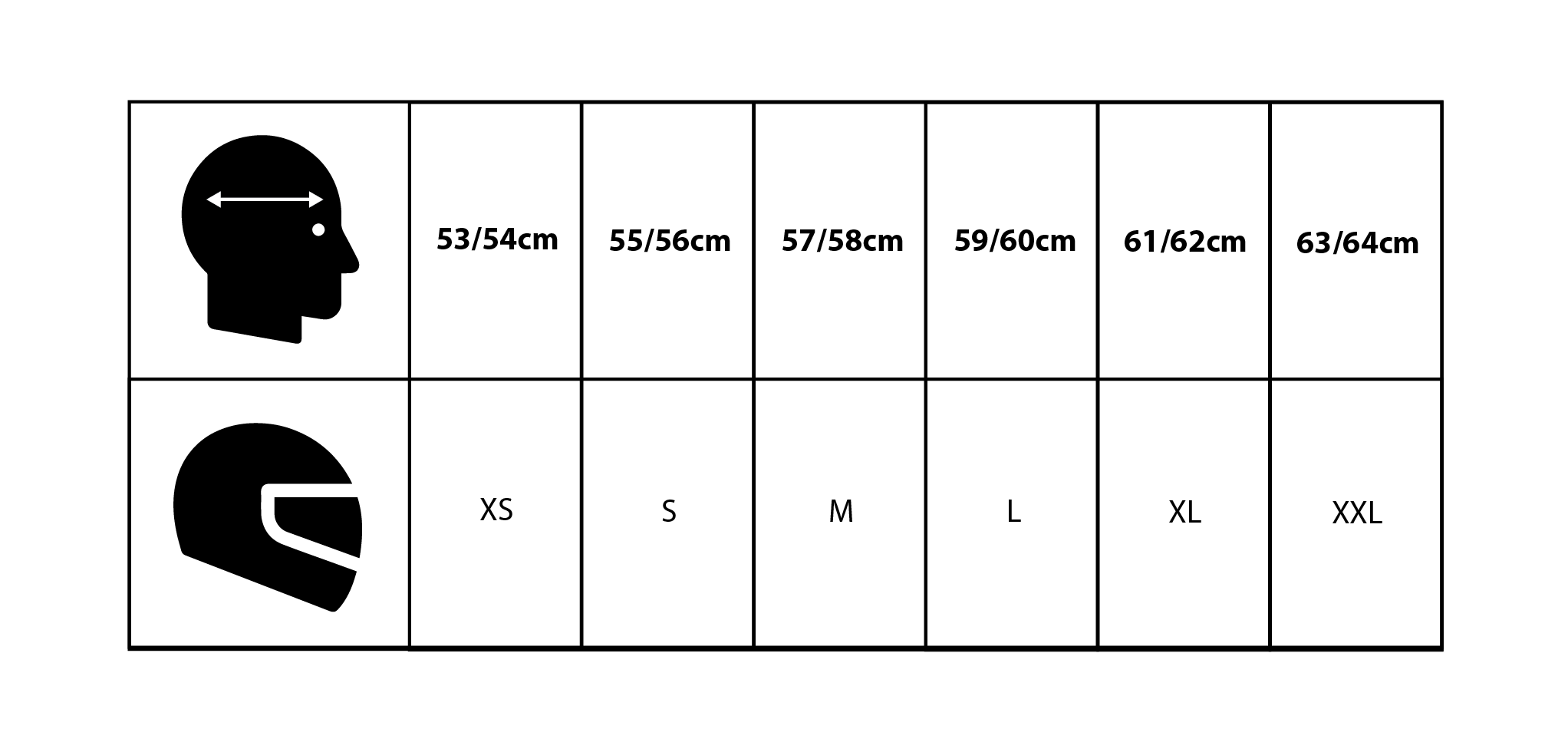 Once you have found your height in centimeters, please refer to the table above. It sometimes happens that we are between two sizes, in this case we advise you to choose the smaller size. It is better to have a slightly too small helmet with a little discomfort (time for the foam to settle), than to have a large and therefore dangerous helmet.