Technical characteristics:
The Marko Helmet Electron helmet is part of a quality/price ratio above what currently exists on the helmet market.
Electron is designed for city dwellers who drive on small and medium -cylinders and wishing a versatile, technical and best price helmet! The Electon responds first by wearing 8 colors both modern thanks to vibrant colors, but also more classic and with a public price of 119.95 '.
ergonomics was to the conception of this helmet. The Electron has not only a long translucent visor, but incorporates an integrated and folding solar visor. The solar visor can be put by one hand and easily removed in order to adapt to your driving and need. Electron lock is done using a micro -meter loop which allows it to adapt as close as possible to your morphology.
the interior of the helmet breathes quality: we find there A mixture of breathable and pleasant fabrics in contact with the skin. The interior of the helmet is removable and its cap is made of 3D foam.
Two small vents on the top of the helmet will allow you to enjoy the summer season without suffering from the hot weather.
Marko Helmets also offers an additional long solar visor for those who wish to offer Electron a more sporty look or simply to gain comfort during the summer season. The visor is withdrawn without tools at simple press of a finger.

Technically:
- Urban jet helmet (thought to store under your saddle)
- Visor Long self-adjustable and anti-scratch treated.
- Visor with quick dismantling
- Integrated sunscreen
- Inner cap in 3D foam with easy disassembly.
- Double ventilation
- Micrometric loop
- Polycarbonate helmet
- ECE approved: Ecer22-05
- 1150g
Type d'équipement

Casque moto jet

Marque

MÂRKÖ

Livré avec housse

Oui

Type de coque

Polycarbonate

Modèle

Electron

Produit homologué selon les normes CE

Oui

Attache jugulaire

Micrométrique (attache rapide)

Ecran solaire

Oui

Intérieur démontable et lavable

Oui

Porteur de lunettes

Oui

Tailles

XS au XL

Poids

1150 gr (+/- 50gr)

Sexe

Femme
Homme
Know your helmet size
Marko Helmets Here are some tips that will allow you to properly appreciate the morphology of your head, in order to correctly choose your Marko helmet. Whatever safety gear you buy to ride a two-wheeler should be taken seriously and deserves professional advice. This is why we are at your disposal by phone or online chat to advise you and offer you the Marko Helmets helmet that best suits your body type.
My Marko Helmets helmet size?
To find your helmet size, you must have a tape measure. If you don't have one, take a piece of string and a ruler to report the length you find. Place the tape measure or string about 2.5 cm above your eyebrows, where your skull is widest.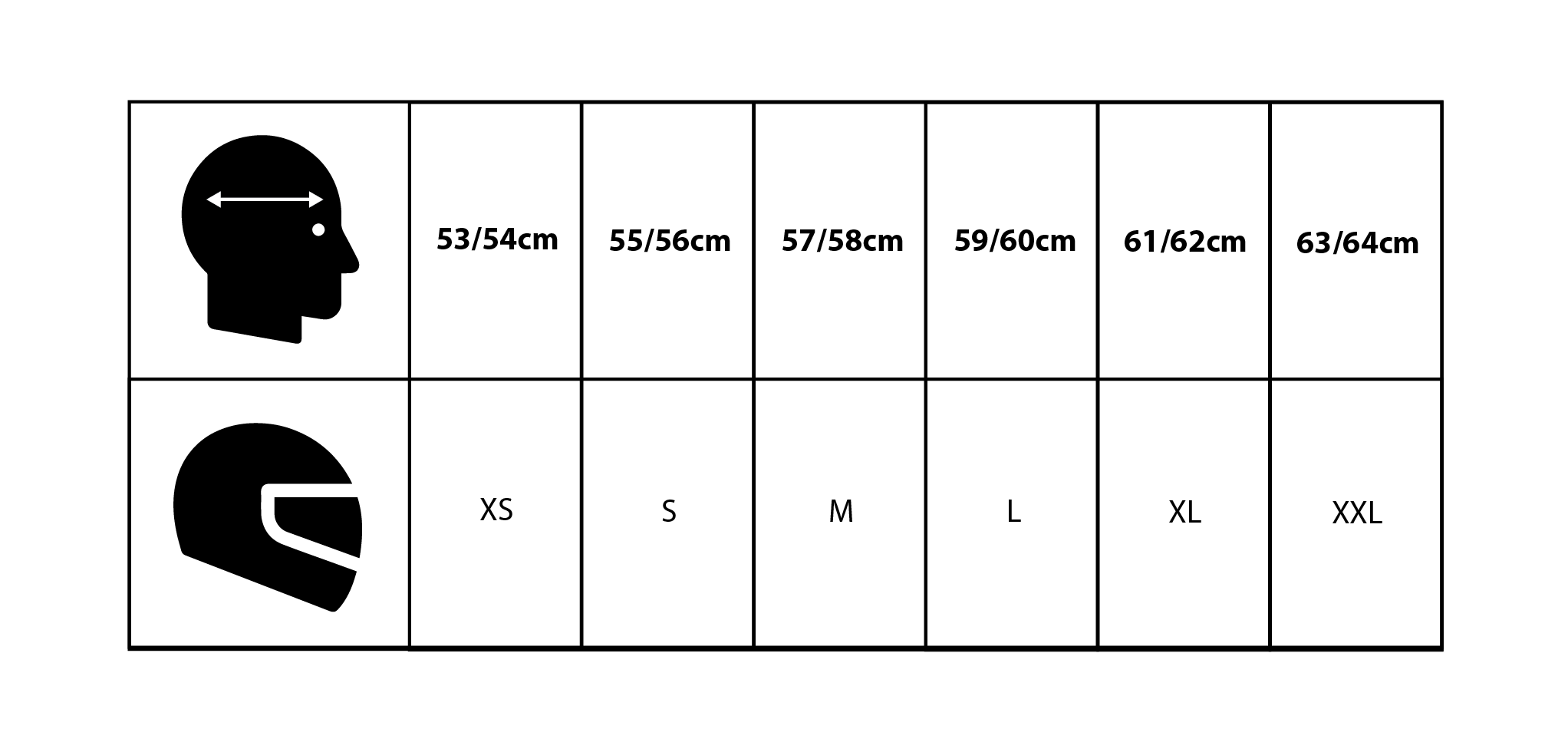 Once you have found your height in centimeters, please refer to the table above. It sometimes happens that we are between two sizes, in this case we advise you to choose the smaller size. It is better to have a slightly too small helmet with a little discomfort (time for the foam to settle), than to have a large and therefore dangerous helmet.