Technical characteristics:
The new compact and high-quality intercom developed in partnership with Sena in preview.
New speakers high definition stereo noise reduction active, conversation time of 8h , 200 meters with connection Bluetooth .
So that all your two-wheeled journeys is a superb experience and you never fail to be connected with your loved ones and with the other motorcycles that accompany you, we have designed in partnership with the Leader of Intercom Sena And their engineers, a simple installation kit and greater performance than those already offered in the past.
This new intercom Markom model has many features and a multitude of advantages that will undoubtedly like, but, before taking the plunge and finalizing your purchase, let's come back in more detail in these many technical characteristics.
The advanced signal with the Bluetooth® 4.0 allows the Markom to provide incoming and outgoing sound for music, telephone calls, GPS instructions and calls between intercoms with other bikes up to 200m.
A sleek design incorporates all the components in one room, which makes installation fast and easy. Two single buttons facilitate the settings during driving so that you can start, take a break and advance or back up your reading list. In addition, each sound source has its own volume level that you can personalize to your taste.
Mârkö designed the Markom to provide very high quality sound thanks to its high definition speakers and Bluetooth® Stereo as well as a sound blocking technology that reduces surrounding noises. The helmet allows up to 8 hours of conversation time on a single load and up to seven days of waking time.
All SENA owners recorded have access to free system updates, to ensure that your Markom is the most efficient. An integrated vocal guide helps you quickly know the characteristics of your device.
- The Sena on Android or iOS application will allow you to make the firmware updates.
- Voice guide available in English, French, German, Italian and Spanish
- 8h conversation time
- Communication between 2 devices up to 200 meters
- Active noise reduction
- Loading time: 2:30
Type d'équipement

Casque moto jet
Intercom moto

Marque

MÂRKÖ

Livré avec housse

Oui

Modèle

Markom

Tailles

unique

Sexe

Femme
Homme
Know your helmet size
Marko Helmets Here are some tips that will allow you to properly appreciate the morphology of your head, in order to correctly choose your Marko helmet. Whatever safety gear you buy to ride a two-wheeler should be taken seriously and deserves professional advice. This is why we are at your disposal by phone or online chat to advise you and offer you the Marko Helmets helmet that best suits your body type.
My Marko Helmets helmet size?
To find your helmet size, you must have a tape measure. If you don't have one, take a piece of string and a ruler to report the length you find. Place the tape measure or string about 2.5 cm above your eyebrows, where your skull is widest.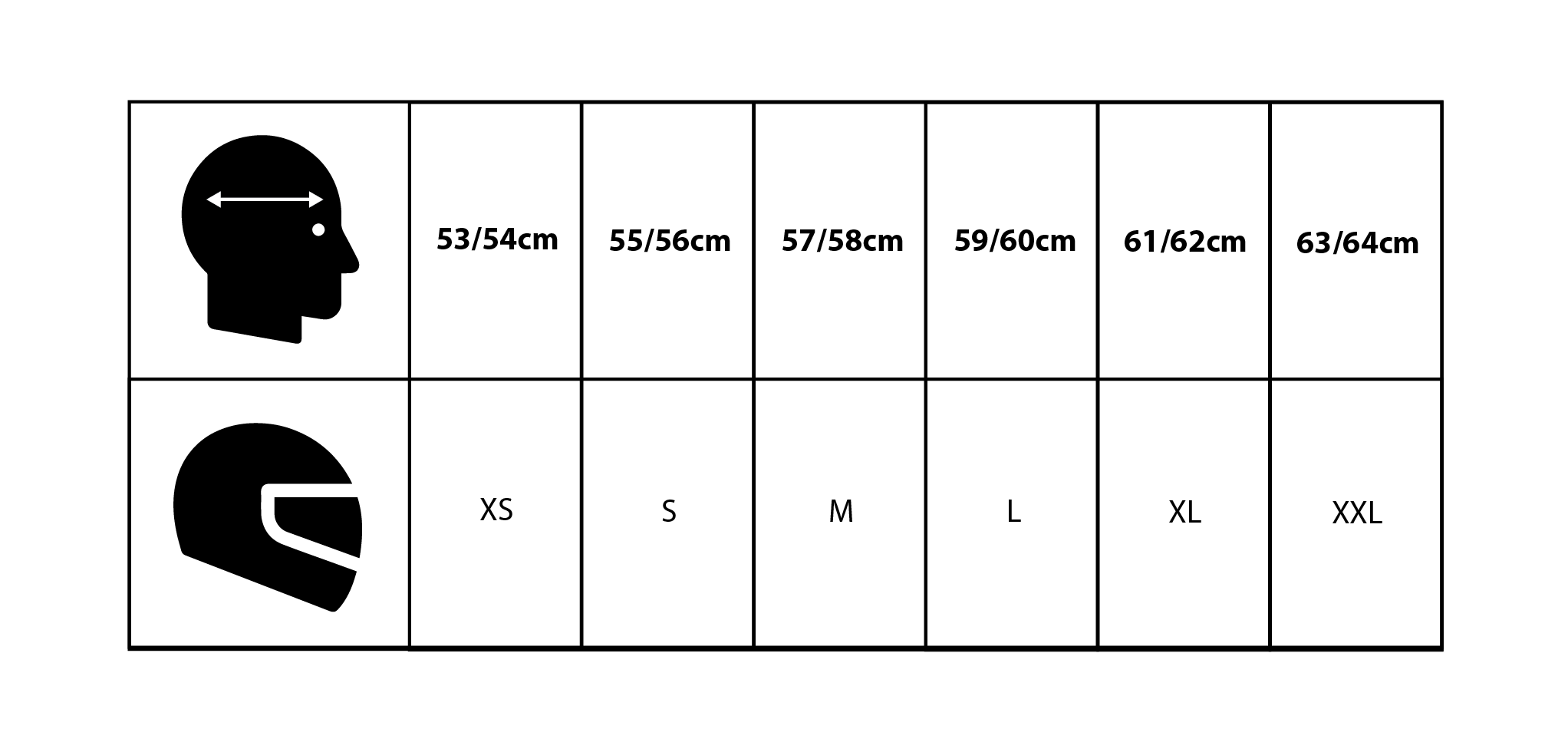 Once you have found your height in centimeters, please refer to the table above. It sometimes happens that we are between two sizes, in this case we advise you to choose the smaller size. It is better to have a slightly too small helmet with a little discomfort (time for the foam to settle), than to have a large and therefore dangerous helmet.
Customers who bought this product also bought: