Technical characteristics:
The classic helmet by Marko Helmets
The Jet The Classic helmet adopts a resolutely vintage style and in the Pure Café Racer, Bobber or Scrambler. This time of timeless, distinctive and particularly balanced helmet has been largely improved thanks to 5 hull sizes. The shape of the vintage helmet The Classic is specially designed to naturally marry the shape of your head and avoid the well -known UF's head effect!
The Moto Jet The Classic helmet is the ideal companion in urban areas for bikers and scooters. The Jet Marko helmet is perfectly accelerating with the vintage motorcycle style Harley Davidson, Triumph Bonneville, Ducati Scrambler ...
the interior in full flower leather of quality will offer you comfort and exceptional security and a very beautiful patina in time. In addition, we wanted to offer a retro discreet helmet, without apparent logo and visible only on the rear pressure, stamped with the M of Marko Helmets. '
the classic adapts Perfectly with the aviator type glasses or vintage cross masks, thanks to its hooking mask on the back.
technical characteristics:
sizes: XS at XXL.
Weight: from 900g to 1050g
homologation: Écer22-05
- Cock-in-law in composite fibers.
- 5 hull sizes.
- leather interior.
-three pressures for cap or motorcycle visor.
-tongue for maintaining glasses.
-closure of the jugular by double-d loop on the market and the only approved on track.
-wide vision field.
- Delivered with a transport cover and reflective stickers.
Type d'équipement

Casque moto jet

Marque

MÂRKÖ

Livré avec housse

Oui

Type de coque

Fibre composite

Modèle

The classic

Produit homologué selon les normes CE

Oui

Attache jugulaire

Boucle Double-D

Ecran solaire

Non

Intérieur démontable et lavable

Non

Porteur de lunettes

Oui

Tailles

XS au XXL

Poids

900 gr à 1050 gr

Sexe

Femme
Homme
Know your helmet size
Marko Helmets Here are some tips that will allow you to properly appreciate the morphology of your head, in order to correctly choose your Marko helmet. Whatever safety gear you buy to ride a two-wheeler should be taken seriously and deserves professional advice. This is why we are at your disposal by phone or online chat to advise you and offer you the Marko Helmets helmet that best suits your body type.
My Marko Helmets helmet size?
To find your helmet size, you must have a tape measure. If you don't have one, take a piece of string and a ruler to report the length you find. Place the tape measure or string about 2.5 cm above your eyebrows, where your skull is widest.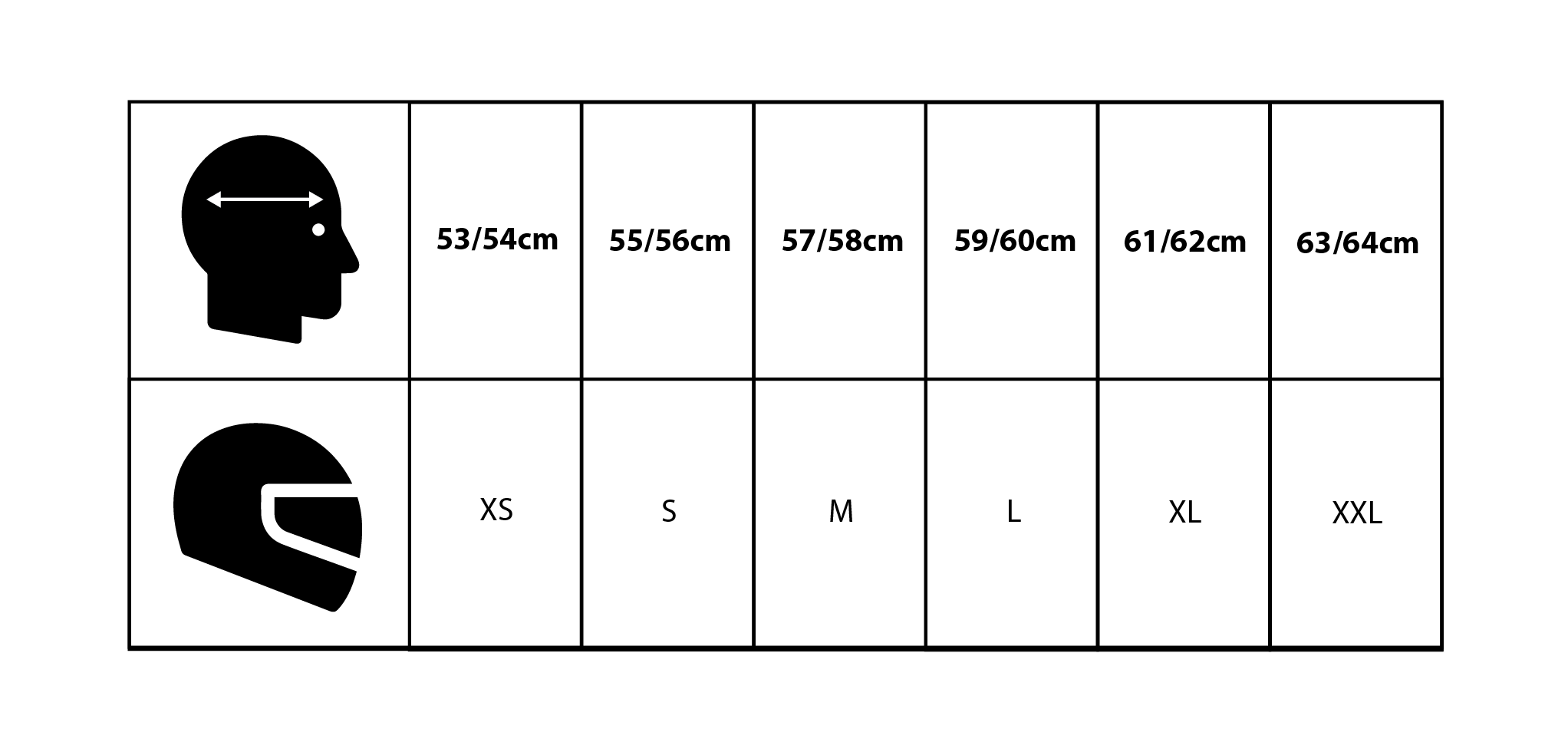 Once you have found your height in centimeters, please refer to the table above. It sometimes happens that we are between two sizes, in this case we advise you to choose the smaller size. It is better to have a slightly too small helmet with a little discomfort (time for the foam to settle), than to have a large and therefore dangerous helmet.
Customers who bought this product also bought: