Technical characteristics:
Full moon full helmet by Marko Helmets
the helmet Full Moon, inspired by vintage integral helmets from the 60s, is made with a fiberglass shell and a fine and low chinničre for more safety. This peculiarity allows it to have a very wide field of vision, characteristic appreciated by two -wheeled users and particularly for driving in town.
combining security, lightness and comfort, the full moon full helmet will bring you back to life the ballads of yesteryear on the handlebars of the most beautiful vintage motorcycles.
many colors and finishes are available, elegant and timeless design, leather or chrome finishes, it's up to you to best agree with your machine and to your taste.
imagined to be personalized, you can remove the visor to install one of our masks thanks to an elegant ties in real leather, replace the screws with a wide choice of colors and also change The original visor by a bubble visor for a neo-retro look.
the legendary vintage full moon integral motorcycle helmet with a removable and washable antibacterial fabric interior, cheeks that can accommodate an intercom system and A substantial ventilation which will make it ideal even during the summer season.
this elegant helmet combines safety, lightness and comfort in a classic look and will be your ideal partner for your motorized adventures. >
Available since 2021 with the double homologation ECE and dot.
Technical characteristics:
Sizes: XS ŕ XXL.
Weight: 1300 +/- 50g
Approval: ecer22-05 and dot
-delivered with a transport cover and stickers Reflective.
- multi density polystyrene calotinčre for optimized protection thanks to the use of materials at different absorption levels.
-Closure of the jugular by a reassuring double-D loop and the only approved on track.
-ventilation system with 2 inputs
- fixation for glasses/mask
Type d'équipement

Casque moto intégral

Marque

MÂRKÖ

Livré avec housse

Oui

Type de coque

Fibre composite

Modèle

Full Moon

Produit homologué selon les normes CE

Oui

Attache jugulaire

Boucle Double-D

Ecran solaire

Non

Intérieur démontable et lavable

Oui

Porteur de lunettes

Oui

Tailles

XS au XL

Poids

1300 gr (+/- 50gr)

Sexe

Femme
Homme
Know your helmet size
Marko Helmets Here are some tips that will allow you to properly appreciate the morphology of your head, in order to correctly choose your Marko helmet. Whatever safety gear you buy to ride a two-wheeler should be taken seriously and deserves professional advice. This is why we are at your disposal by phone or online chat to advise you and offer you the Marko Helmets helmet that best suits your body type.
My Marko Helmets helmet size?
To find your helmet size, you must have a tape measure. If you don't have one, take a piece of string and a ruler to report the length you find. Place the tape measure or string about 2.5 cm above your eyebrows, where your skull is widest.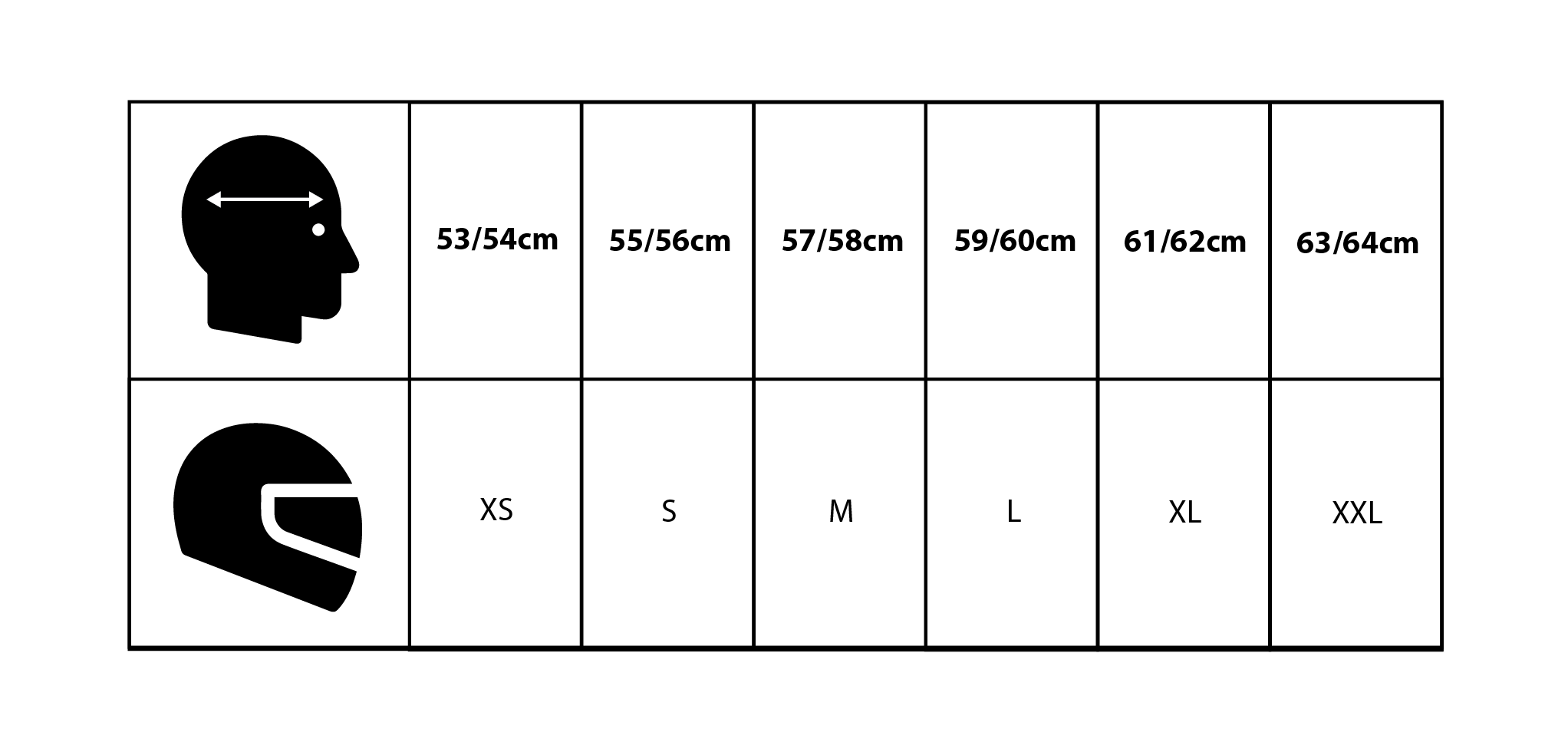 Once you have found your height in centimeters, please refer to the table above. It sometimes happens that we are between two sizes, in this case we advise you to choose the smaller size. It is better to have a slightly too small helmet with a little discomfort (time for the foam to settle), than to have a large and therefore dangerous helmet.
Customers who bought this product also bought: